Light post-editing
In the light version, our post-editors check the correct rendition of the machine-translated content. At the same time, they correct any spelling and grammatical errors. Light post-editing is suitable if the translation is to be understood clearly but is only needed for internal purposes, for example.
Full post-editing compliant with ISO 18587
With this certified editing process, additional stylistic aspects are reviewed and revised if necessary. At the same time, we ensure that company-specific terminology has been adhered to and that the final translation incorporates the relevant corporate language.

Do you have any questions about language technology or a planned project?
I would be happy to tell you more about our development department and our technological possibilities – and introduce you to Apostroph Group.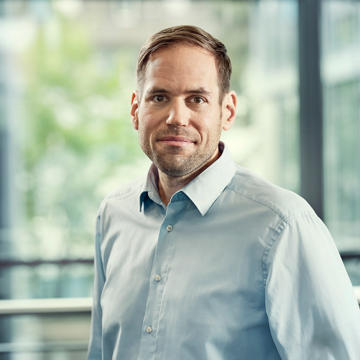 Any questions?
Yes. Our translation technology team would be happy to explain how to integrate machine translation into your language management, the opportunities that machine translation offers and where its limits are.
Find out more about machine translation
Yes. Our translation technology specialists would be happy to advise you on the wide range of possible applications and explain the systems within translation technology.
Find out more about translation technology
These providers offer little, if any, data security. In addition, public tools learn with all texts available, and of varied quality, which is why their output is also based on obviously incorrect translations. Generally speaking, terminology cannot be taken into account (and if it is, then only with a great deal of effort), and Google, DeepL & Co. are also unable to implement style specifications.
The translation memory (TM) stores a collection of translation segments just like in our own memories. With each new translation, sentences and passages are added to this memory. The benefit to you (once we have completed a number of your translations) is consistent terminology, savings on repetitions and faster turnaround times.
Find out more about translation technology
A terminology database (also known as a termbase) is a collection of technical terms from a company or industry in two or more languages. Apostroph makes this available to the translator on a server via a CAT tool.
Find out more about translation technology